Creating a beautiful outdoor patio area expands your living space, and gives you a wonderful place to enjoy nice weather and time with family. When decorating your patio, think comfortable and cozy. Choose accessories that will compliment your style, but also serve a purpose. You want your outdoor space to be just as enjoyable as sitting in your living room. These patio decorating ideas will help create your perfect outdoor oasis.
Save Space with Style
More often than not, you may have limited space on your patio. You don't want it cluttered with pool items, or looking unkempt when company arrives. So, what's the solution? The Spacemaker Deck Box is your new best friend when it comes to an attractive and easy way to store outdoor gear. This beautiful storage option is sturdy and stylish at the same time. It comes in anthracite or espresso, and will last through any season. What makes this storage bench even more versatile is you can use it inside or outside. If you want to change decor throughout the year, this is a great choice. The deck box also features:
Galvanized steel that resists rust and corrosion
Over 130 gallons of storage space
Built in correlated floor to keep items inside dry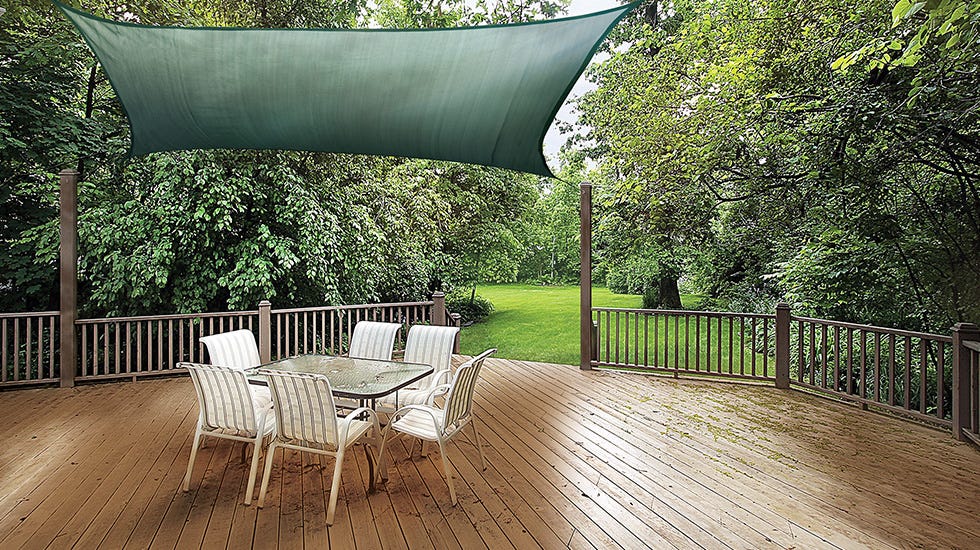 Add Shade for Maximum Comfort
The best patio decorating ideas are accessories that are both beautiful and useful. When you're enjoying your time outside, staying in the shade is not only good for your skin, but your company will appreciate the added comfort. For an option that will provide both elegance and function to your backyard, think about adding a gazebo. The Sequoia Gazebo is a durable choice with the look of wood at a fraction of the cost. The possibilities are endless with a gazebo; add a seating area with accent colors to add class to your space. And the best part is assembly is simple! Another easy and affordable way to add shade and style is with a shade cloth or shade sail. Both are simple do-it-yourself products that you can hang in your back yard with ease. They come in multiple colors that fit any style. For a compact option that will keep you out of the sun during the day, but also light up the night, this LED Light Up Patio Umbrella is the ultimate day to night accessory. This 65 sq. ft. umbrella is water resistant and adjusts to different heights.
Simple Patio Decorating Ideas That Keep Giving
How about adding a pop of color with purpose to your patio? Raised bed gardens don't just provide you with fresh herbs and vegetables. They are the ultimate patio decoration, even if you just want to grow flowers to breathe new life into your back yard. This Spacemaker Raised Bed Garden won't break the bank, but will impress company! This raised bed garden also includes:
Exterior finish in espresso and latte
Fast DIY assembly
UV resistant panels to protect against rot and insects
To learn more about how to start your own raised bed garden, read this past blog in our Grower's Guide Series.
Coordinating Color Palettes
Even the best patio decorating ideas won't work if you don't use color to your advantage. Whether you're choosing an outdoor rug or couch, think about the color palette before purchasing your accessories. While bright pops of color can spruce up any look, try to choose neutral colors as a base throughout your area. Earth tones are a great choice. Then, choose which accessories you will use to insert those bold pops of color. Reds and bright blues are a crowd pleaser in any season. And if you really want to change it up, add in a rug or accent pillow with a fun pattern. The best patio decorating ideas are ones that not only make your space look better, but make your life easier. After you add a few of these to your backyard space, you may not want to go back inside!